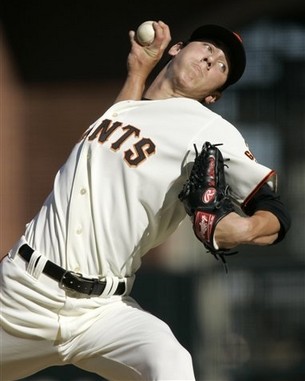 *I'm reposting this piece from early October in honor of Tim Lincecum winning the 2009 NL CY Young award. Now let the debate begin: what kind of extension will/should the Giants offer Lincecum? Comment away.*
Now that the Giants are officially eliminated from playoff contention, they can finally focus a long term deal for The Freak, Tim Lincecum. Under ordinary circumstances, the Giants would be in no rush to negotiate with Lincecum. Lincecum will not become a free agent until after the 2013 season and he will be eligible for arbitration for the first time this winter.
But make no mistake about it, Tim Lincecum is no ordinary player.
In just under three full seasons in the major leagues, Lincecum has established himself as
the
premier right handed pitcher in the National League. Last season, Lincecum was awarded the NL CY Young award after winning 18 games on a terrible Giants team. Lincecum did not just win games, he dominated them. In 227 innings pitched, Lincecum struck out 265 hitters and finished the year with a phenomenal 2.62 ERA.
And incredibly, Lincecum has followed up his stellar 2008 season with an even better 2009 season. Lincecum is one of the front runners for the CY Young award again this season and currently has a 14-7 record with a 2.47 ERA and 254 strikeouts in 218 IP.
At 25 years old, it's scary just how good Lincecum has become. He has become the face of the Giants in just three seasons, which is a miracle for the Giants in the post Barry Bonds era.
But Lincecum's dominance is going to come at a price for the Giants. A hefty price. Because of Lincecum's amazing performance, he's set to demolish all kinds of records this offseason when/if he reaches arbitration. Is it unrealistic to think that Lincecum's salary could escalate this offseason from $650,000 to around $10 million in arbitration? Probably not.
From my point of view, it would make sense for the Giants to try and sign Lincecum to a long term contract now. If Lincecum is able to keep up this high level of performance and the Giants fail to lock him up, then Lincecum's salary is bound to skyrocket in the next couple of years.
For the Giants, the goal of a contract extension with Lincecum would be to at least buy out a majority of Lincecum's arbitration years. If possible, I'm sure the Giants would love to buy out one of Lincecum's arbitration years, but that might be asking too much at this point.
And for the Lincecum camp, the goal of a contract extension with the Giants would be to guarantee that Lincecum would be paid like one of the top starting pitchers in baseball. There's no doubt in my mind that if Lincecum goes year to year with arbitration, then he could potentially earn more, but having millions of dollars guaranteed has to be quite alluring. And the only way I'd consider giving up a year of free agency is if the deal is massive and groundbreaking.
Now, I've heard the Zack Greinke extensions as a possible starting point for the Lincecum extension because Greinke is the best pitcher in the American League. However, I'd argue that Greinke's extension has nothing to do with Lincecum's. Greinke signed his extension (4 years/$38 million) last season after having one very good season. At this point, Lincecum has had one very good season and two ABSOLUTELY FANTASTIC seasons as he looks towards his contract extension. The Greinke extension pales in comparison to what Lincecum should get.
So how about either of these deals for Lincecum?
(3 years/$45 million)
2010: $9 million
2011: $16 million
2012: $20 million
*********** ***********
(5 years/$77 million)
2010: $9 million
2011: $12 million
2012: $15 million
2013: $19 million
2014: $22 million
This deal would make Lincecum one of the highest paid pitchers in baseball by 2012 (per year) and would buy out all of Lincecum's arbitration years and one year of free agency. The total package would exceed $75 million through 2014 and give Lincecum the opportunity to become a free agent again when he's just 30 years old.
Thoughts? Is this contract realistic? Does it make sense?

(Jorge Says No! on Facebook)

(
Follow Jorge Says No! on Twitter
)