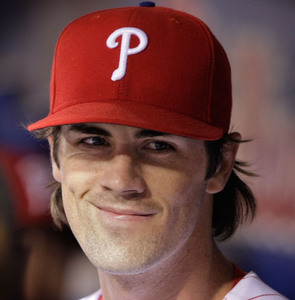 First
Dustin Pedroia
. Then
Kevin Youkilis
. Now Cole Hamels. All rising stars, who now have reasonable long term contracts! Can you feel the excitement!
The Phillies have signed SP Cole Hamels to a 3 year/$20.5 million dollar extension today that locks up their ace through 2011. The deal is somewhat of a landmark because it does not buy out any of Hamels's free agent years and actually leaves Hamels with one more year of arbitration.
"We're very pleased with the fact that Cole has had an opportunity to be rewarded for his accomplishments in the past,'' Hamels' agent, John Boggs, told ESPN.com's Jerry Crasnick. "The contract gives Cole a degree of financial security, and it didn't compromise his last year of arbitration or touch any free agent years, which was our goal.'' ESPN

This deal is great for Hamels. Besides the financial security this deal will bring, he doesn't have to deal with the hassle of arbitration for the next few seasons and he can focus solely on pitching. Plus, this deal does not hinder his ability to maximize his potential earnings a few years down the road in free agency should he stay healthy and productive.

For the Phillies this deal makes a ton of sense as well. For starters, Hamels was likely to earn at least the $20.5 million in arbitration and probably more should he continue to develop as one of the league's best starting pitchers. This deal locks Hamels in to a specific and reasonable contract that will not hinder the Phillies ability to go re-sign other players and go after free agents.
Also, this deal is the ultimate sign of good faith from the Phillies. After all the turmoil the Phillies have gone through with Ryan Howard and arbitration, the Phillies needed to show their rising star just how committed they are. The Phillies did not have to extend this offer to Hamels because they would have retained his rights for the next few seasons, but I'm guessing that they decided to proceed with the offer in the hopes that Hamels would sign with them long term after 2011...hopefully at some sort of discount.
I'll be interested to see the future implications of this deal, but I have no doubt that both the Phillies and Hamels have to be feeling pretty good about this contract.