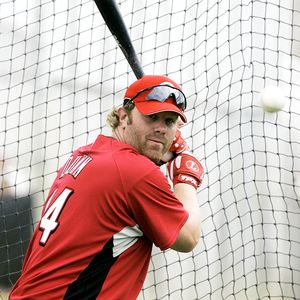 Adam Dunn is a strikeout hitter. Baseball people expect Dunn to
strikeout
at least 160 times a season to go along with the 40 or so home runs that he will hit on average. However, I don't think there were too many baseball people who could have predicted that Dunn would have struck out this badly on the free agent market.
With ten days to go until spring training, Dunn remains stuck in free agent purgatory. There have been very few suitors for Dunn's services despite his tremendous power hitting ability. Dunn initially priced himself out of the market by looking for a 4 year/$56 million dollar contract. Now, it looks like Dunn will be lucky to get half of that. And that's best case scenario.
Right now, Dunn has only received one offer (that we know of). That offer comes courtesy of the
Washington Nationals
, who lost a league worst 102 games last season. While terms of the offer are unknown, we do know that Dunn wants to play on a
winner
because he has never made the playoffs before in his big league career. And let's be honest here, the odds of the Nationals making the playoffs in 2009 are slim to none.
You can understand why Dunn has not jumped at the Nationals offer.
So Dunn has instead taken a patient approach, hoping and praying that another team becomes interested in his services and opens up the checkbook. However, no team has come close to biting thus far.
Dunn seems intent on waiting out the Manny Ramirez situation before he makes his decision about where to play in 2009. If Ramirez and the Dodgers cannot work out a deal, then Dunn might become their
top priority
. However, there is no guarantee that the Dodgers and Ramirez won't come to a deal and in addition, no guarantee that the Dodgers will even pursue Dunn if they miss out on Ramirez.
As for other teams, I would love to see the Angels enter the bidding, but GM
Tony Reagins
seems to be high on young players and reluctant to spend anymore dough. The
Red Sox
could be interested, but they currently have no where to put Dunn. Like the Red Sox, the Yankees have no where for Dunn to play. It's obvious that this market is barren.
That leads us to the million dollar question: should Dunn continue to be patient and hope that some team decides to make an effort to sign him after three months on the free agent market, or should Dunn take the deal with the Nationals and maybe try again for a big contract when the market recovers?
At this stage in the game, the Nationals are the only sure thing that Dunn has. If the Dodgers enter the bidding, it will certainly help Dunn. But the guess here is that the Dodgers and Manny will eventually come to terms, which will leave Dunn on the outside looking in.
Hypothetically speaking, I think the Nationals would actually be a pretty good fit for Dunn. Odds are the Nationals would have to overpay for Dunn because nobody wants to come to DC right now except for that Obama guy. The Nationals are not exactly a hot bed for free agents and the baseball culture in DC is still a work in progress. However, at the same time, if you stick Dunn in the middle of the Nationals lineup (in between Milledge and Zimmerman), all of a sudden that lineup does not look so bad. The big donkey could actually put up some huge numbers in that lineup and help those young players develop.
But there is no way to get around it, the Nationals are Dunn's last option. He does not want to go there...
period
. But at the same time, the Nationals may be Dunn's last option if he wants to get a big payday. Something in the 2 year/$26 million dollar range would not be unreasonable for either side and would allow Dunn to become a free agent again at the age of 32.
For a guy who hit 40+ home runs in each of the past 5 seasons, the limited amount of interest on the free agent market for Dunn's services has been astounding. Dunn and his agent better hope the Dodgers and Manny Ramirez suddenly hate each other, or that the Angels reverse course and make a play for him, or the Yankees try to conquer the baseball world by signing every major free agent known to man.
So it's Dodgers or bust for Dunn. If Manny re ups with Dodger Blue, it's not inconceivable for Dunn to have no other option besides the...cough...Nationals.
How amazing would that be!
(Note to baseball teams: Adam Dunn is a very good player. Sure he has his flaws, but there is no reason why this guy should not be signed this late into free agency. Dunn is the biggest bargain on the free agent market right now and will make any team very happy that they signed him. Mark my words.)