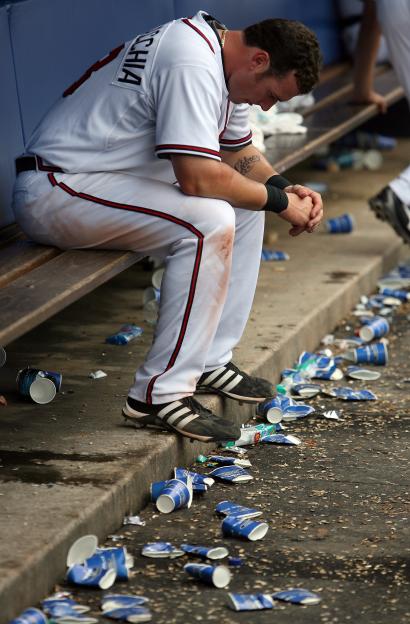 Shocking news last night that Ken Griffey Jr has decided to sign with the Seattle Mariners instead of the Atlanta Braves. The deal with the Braves seemed to be a near certainty, but Griffey, perhaps feeling quite nostalgic, decided to turn back the clock and sign with the Mariners.
Ouch, Atlanta. That hurts.
And you know where it hurts the Braves the most? The pocketbook. With the economy currently in the tank, having a guy like Griffey around would be a huge asset for Braves management because it would give fans a reason to buy all different kinds of Braves items. Stuff like tickets, merchandise, concessions, and TV revenues all would go up with Griffey on board.
Strangely enough though, I don't think this will hurt the Braves on the diamond. Sure there was always the
chance
that Griffey would recapture his glory days at 39, but odds are high that Griffey would be nothing more than a platoon player, even at the dish. In addition, playing Griffey everyday in the field would be a major risk given his injury history and decline; it's obvious that Junior should be in the AL with the hitter friendly DH.
Now the big question for Braves management has to be who do they pursue next? The obvious choice has to be Garret Anderson, who hit .293 with 15 home runs for the Angels last season. It's clear that he can still hit right handed pitching (.293, 14 HR in 2008), but the question remains: can he play defense consistently? Anderson was the Angels DH 60 times in 2008 and having him the outfield consistently would be a liability. We'll see if that's a risk the Braves are willing to take at this point. Trading for Xavier Nady or signing Luis Gonzalez remain options as well.
For Braves fans, this one has to be yet another letdown. This is the second time this offseason that a player (Rafael Furcal) has spurned their offer to sign elsewhere after the media reported that a deal was close. Even at his old age, people will still pay money to see Ken Griffey Jr, one of the best players in baseball history, play the game. He was
that
good.
Too bad Braves fans. For now, you'll have to settle with Gregor Blanco and Josh Anderson. Ouch.