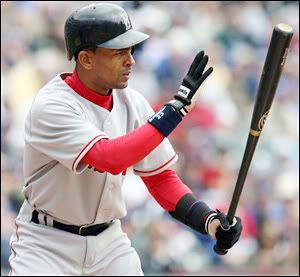 Julio Lugo is quickly turning into a poor man's Juan Pierre...seriously. Just a year and a half after the Red Sox signed Lugo, he was relegated to the bench to make room for hot shot prospect Jed Lowrie. Lugo is a classic example of a good player, who was able to maximize his earning potential on the free agent market. However, just two years later, here we are pondering, what the hell were you thinking, Boston?
Why Sign Lugo:
After trading Nomar Garciaparra in 2004, the Red Sox were not able to find a permanent replacement for the former face of the franchise. Edgar Renteria was a disaster. Alex Gonzalez was only a stopgap. The Red Sox could do better...and they knew it.
So as a result, the Red Sox went after Lugo...hard. They believed that he would be a productive lead off hitter, who could steal bases, hit for a solid average, and play pretty good defense. The Red Sox did not need Lugo to be a star, but they thought he would be a great complimentary piece.
What Went Wrong:
To be quite frank, Lugo declined...quickly. Lugo, who was a solid .270-.290 hitter with the Devil Rays, went into a deep funk with the Sox in 2007 and finished the season only hitting .237 and seemed allergic to taking walks. Obviously, 2007 was a disaster for Lugo on the field.
And it did not get much better in 2008. Lugo battled with injuries throughout the season and he seemed to be a shell of his former self. His defense took a major turn for the worse as Lugo committed a whopping 16 errors in only 81 games. Not even Edgar Renteria was that bad. And to make matters worse, Lugo's power evaporated as he only hit 1 home run and 13 doubles. It's not surprising that Lugo lost his starting job to Jed Lowrie even when Lugo returned from injury.
Future Implications:
The future implications of this signing will not be felt until this spring. Lugo intends to compete with Lowrie to be the starting shortstop and if he shows some skills, then he could be of some use to the Red Sox. I doubt he will win the starting job, but the Red Sox can afford to have a $9 million dollar player on the bench as insurance. At worst, the Red Sox might actually be able to find a suitor for Lugo, even if they have to pick up most of the tab.
At the same time, if Lugo proves that he truly is on the decline, then the Red Sox will be stuck with a useless, overpaid player for the next two seasons.
The Red Sox will be fine with or without Lugo. They have enough organizational depth, quality talent, and resources to absorb a disappointment like Lugo.
Lesson Learned:
Look out for the warning signs. Lugo, who was 31 when the Red Sox signed him, had a terrible second half after being traded to the Dodgers in 2006. Lugo did not hit for any power, struggled to get on base, and suddenly could not hit for average. Could it be possible that Lugo's terrible second half hinted at his decline with the Red Sox? Maybe...but it's always risky paying a guy for one good half.
In addition, the Red Sox became desperate to find a long term answer at shortstop and as result they overpaid for Lugo. Desperation is never a good word when it comes to free agents.