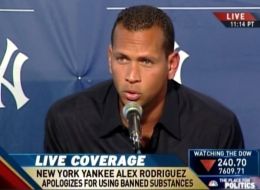 And with those two words, we sum up the 35 minute "Alex Rodriguez-Steroids Extravaganza" press conference. Rodriguez stuck to the talking points for a good portion of the time, but went to some interesting details about his steroid use.
Here is what we learned:
-He got the "boli", as he called it, from a cousin in the Dominican Republic
-His cousin injected Rodriguez with steroids
-A-Rod did not reveal his cousin's identity
-A-Rod had no idea what the drugs did for his body
-Even with his limited knowledge of the drug, Rodriguez was injected roughly twice a month for 3 years.
-Rodriguez never took HGH, but did admit to taking some kind of amphetamine during his time in Seattle
And with that, the extravaganza was over. I think Rodriguez needed to come clean with as much information as possible, which is what he did, but the idea of simply being 'young and stupid' became annoying and repetitive for me. He really beat that point over the head.
Did anyone else feel uncomfortable when A-Rod became all choked up and emotional when thanking his teammates? Okay good, glad I'm not the only one.
Let's just hope, for everyone's sake, that this story simply dies off. The circus will hopefully subside, and maybe, just maybe, we can all focus on baseball for once. Enough with this nonsense.
For more on the A-Rod press conference, head on over to Fack Youk and read their hilarious live blog of the press conference.