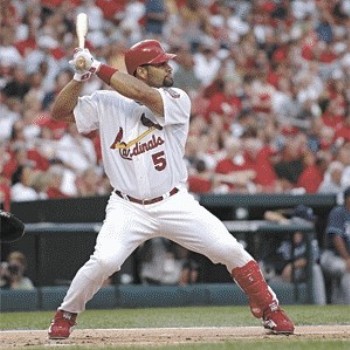 1. Albert Pujols
-Here are the numbers Pujols put up in 2008: .357 batting average, 37 HR, 116 RBI, .462 OBP.
How amazing are those numbers? And did I mention that Pujols suffered from a major elbow injury for the entire 2008 season? Pujols is an absolute freak of nature and is unquestionably the best hitter in baseball. If Pujols is totally healthy in 2009, he could put up even better stats, which is scary thought for the National League.
2. A healthy Chris Carpenter
-Carpenter has missed the better part of the last two seasons because of various arm ailments. As a result, the Cardinals have been without their ace and not surprisingly, they have missed the playoffs in each of the past two seasons. If the Cardinals get a healthy Carpenter in 2009, then they could be a scary team that could challenge for the NL Central or the wild card.
3. The real Khalil Greene
-As we have mentioned before, Khalil Greene is at a crossroads in his career. He has shown vast potential at the major league level, but he has yet to produce consistently or remain healthy. It's time for Greene to put it all together....and if he does, the Cardinals would benefit greatly. Greene has surprising power for a shortstop and is one of the better defensive shortstops in baseball, so the Cardinals need Greene to flourish.
4. Mr. Closer?
-Who exactly will be the Cardinals closer? Ryan Franklin? Chris Perez? Jason Motte? At this point, no one is too sure. I'm pulling for Chris Perez simply because he throws really, really hard and would be an imposing force at the backend of the bullpen. Cardinals fans should be excited to see who Tony LaRussa eventually decides who will be the closer.
5. Colby Rasmus
-Will this finally be the year where wunderkid finally cements his role with the Cardinals? We have been hearing about Rasmus for what seems like the last 5 years, but he still has not made his mark with St. Louis. Rasmus has tons of talent and is a potential five tool player, but the question remains: will 2009 be his season? And you know what, it might be. With Skip Schumaker shifting to second (hopefully), left field is now vacant for either Rasmus or Chris Duncan. Put my money on Rasmus to win the job based on his vast talent, but he needs to get off to a strong start in a new league, something he has struggled to do in his career so far.