I feel sorry for Blue Jays fans, really I do. It seems as though every year we believe that the Blue Jays are going to compete with the Yankees and Red Sox for the division crown, but the Jays have yet to come close. The problem certainly has not been money: the Blue Jays have a $97 million dollar payroll and have invested big bucks into
Vernon Wells, BJ Ryan, Alex Rios,
and
AJ Burnett.
While $97 million dollars is nothing close to the Yankees, that money is certainly good enough to build a winning baseball team. The AL East is a definite barrier to success for the Blue Jays, but what has held this franchise back from reaching the promise land? Let's take a look.
Free Agents
It wasn't too long ago that the Blue Jays spent very little on free agents, but at the end of 2005, the Blue Jays new ownership group agreed to expand the payroll some $30-$40 million dollars. The Blue Jays landed the guys they coveted, but the results have been very mixed. The Blue Jays signed SP
AJ Burnett
to a very controversial 5 year/$55 million dollar contract in the hopes that he would develop into a solid #2 to complement
Roy Halladay.
Burnett has looked very good at times (2008 season), but has struggled to stay healthy as evident by his four stints to the DL in three seasons with the Blue Jays. Not having Burnett on the mound every fifth day on a consistent basis has undoubtedly hurt the Blue Jays.
The Blue Jays also signed
BJ Ryan
to a 5 year/$47 million dollar contract to solidify the back end of their bullpen. This move was
the
most controversial of the winter because of amount of years and dollars that
GM JP Riccardi
was willing to give a closer. Riccardi got his moneys worth in 2006 as Ryan posted a 1.37 ERA and was named to the all star team. However, the good vibes quickly ended when Ryan missed the entire 2007 season because of Tommy John Surgery. Who knows if the Jays could have seriously competed in 2007 with a healthy Ryan, but without him, the Jays struggled to make noise and faded back into mediocrity.
The final big name free agent pickup actually occurred in 2007. In signing DH
Frank Thomas
, Riccardi believed that he finally had a big bat in the middle of the order that could protect Vernon Wells and Alex Rios. Thomas actually had a pretty good season in 2007 with 26 HRs and 95 RBI, which made the deal look pretty good. But by May 2008, the deal looked terrible. Thomas could no longer get around on a fastball and the Blue Jays were sick of waiting for him to come around. Frustrated and fading in the standings, the Blue Jays released Thomas after he refused to accept a diminished role. The inconsistency of Thomas from 2007 to 2008 was a major reason why the Blue Jays struggled in the first half of 2008.
So what do all these free agent pickups have in common? Good players? Absolutely. Have they been on the field consistently? Hell no. Houston, I think we have found a problem....
Trades
Over the past few seasons, the Blue Jays have made few impact trades, instead choosing to build their team through the draft and free agency. The lone exceptions have been the acquisitions of
Troy Glaus, Lyle Overbay,
and
Scott Rolen.
What do all three have in common? Injuries and inconsistent play.
Riccardi acquired Glaus in 2006 for
Orlando Hudson
and
Miguel Batista
to be the middle of the order bat that he felt the Blue Jays were lacking. And in 2006, Glaus delivered the power with 38 HR, but only hit .252 for the season. Unfortunately, Glaus's second season was plagued by a heel injury, which limited him to only 115 games. It is hard for a team to succeed when one of their best hitters misses significant amounts of time.
After the 2007 season, Riccardi traded Glaus for 3b Scott Rolen, who they hoped would provide solid production from the plate to compliment his stellar defensive ability. Unfortunately for the Jays, Rolen was limited to only 115 games this season because of a fractured middle finger. Even more concerning is the reality that Rolen appears to be well past his prime, only a shell of his former all-star self. If the Jays are going to succeed, they need Rolen to be healthy and productive.
The trend of injury and inconsistency continues with Lyle Overbay, who was acquired from the Brewers for
Dave Bush
. In his three seasons with the Jays, Overbay has produced solid seasons in both 2006 and 2008, but failed to stay healthy in 2007 after breaking several bones in his hand. Overbay is a good player...just needs to stay healthy. Same ole' song and dance.
And one final trade, one of Riccardi's best moves seemed to be moving headcase Shea Hillenbrand to the Giants for
Jeremy Accardo
. Accardo was wonderful in 2007, filling in for the injured BJ Ryan, but by 2008, Accardo was hurt (does this surprise anyone!). He missed most of the 2008 season with right forearm tightness. Yikes. Can anyone in this organization stay healthy?
*I don't think I can really criticize Riccardi here because I don't think that any of these trades were atrocious, but the Jays simply had horrible luck as none of these guys can consistently stay healthy. The talent is there, but for some reason, the baseball Gods obviously don't like Toronto. Weird.*
Draft
You have to give credit to the Blue Jays for building competitive teams primarily through the draft. Just take a look at some of these names:
Roy Halladay, Shaun Marcum, Dustin McGowan, Aaron Hill, Alexis Rios, Adam Lind, Travis Snider,
and
Jesse Litsch.
Anytime you can find eight quality players from previous drafts, you know your doing something right. You would figure that the Blue Jays would have a solid foundation with all of these guys for the next few years, but we have already seen the injury bug strike. Take a look:
-
Dustin McGowan:
Labrum Surgery (missed most of 2008)
-Shaun Marcum:
Tommy John Surgery (done for 2009)
-Aaron Hill:
Concussion (missed most of 2008)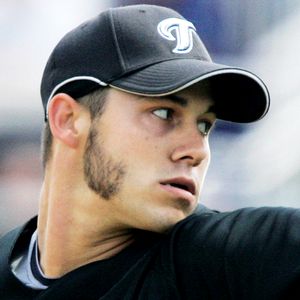 (nice burns McGowan....)
Seriously, how does one franchise have this many injuries to key players? It is a testament to the depth in the organization that the Blue Jays did not totally fall apart this season after losing Hill and McGowan, while Marcum pitched with obvious discomfort. The baseball Gods really do hate the Blue Jays.
Look out for
Travis Snider
in the years to come: he is an absolute stud. No young hitter impressed me more this season in limited time than Snider. This guy can flat out rake...it seems like every ball that comes off his bat is a line drive. He's going to be special so long as he avoids the Blue Jays injury bug. I also like
Brett Cecil, Kevin Aherns,
and
JP Arencibia
; but none of those guys compares to Snider. The Blue Jays system is very middle heavy...lots of average to above average prospects, but no real studs besides Snider.
Prediction
*The Blue Jays are still a few pieces away from competing with the Rays, Red Sox, and Yankees in the AL East. Even if they can stay healthy, I don't think they have the starting pitching at the moment to stay competitive for a long period of time.

Unfortunately, it could be awhile before the Jays can seriously compete for an AL East title. Like years past, there is just too much depth there.
Nothing is worse than being mediocre. The Jays are strong enough where they should be able to compete, but unfortunately, their best opportunities might already be behind them. This must be torture for Jays fans. Too many injuries. Too much inconsistency. Too much bad luck. So what's there to do now? I say start fresh. JP Riccardi should see what he can get for Alex Rios, Vernon Wells, BJ Ryan or even Roy Halladay. Being average is no fun and sometimes you have to take a few steps back before you can move forward. Or GM JP Riccardi can simply pray to the baseball Gods that some of his players actually stay healthy for once...jeez.