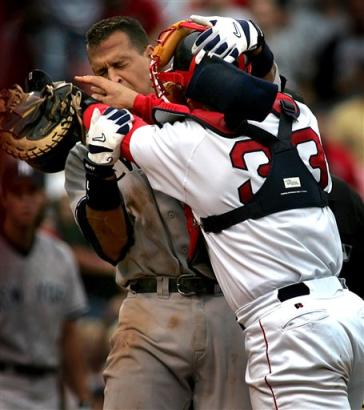 Its become expected that the Yankees and the Red
Sox
will compete for talent in every
offseason
. The trend has been continuous and for the most part, the Yankees have come out on top.
2002: Jose Contreras (Yankees)
2003: Alex Rodriguez (Yankees)
2004: Carl
Pavano
(Yankees)
2006
Daisuke
Matsuzaka
(Red
Sox
)
2007: Johan Santana (
Mets
)
(Note: I had to throw Santana in here because without the Yankees and Red
Sox
backing away from Johan, the
Mets
never would have signed him. I still have no idea how Omar
Minaya
pulled that trade off.)
These two franchises were like the USSR and US throughout the Cold War, the baseball world seems to revolve around the Yankees and Red
Sox
at all times, especially the
offseason
. Who needs Reagan and Gorbachev when you got
George
Steinbrenner
and
Larry
Lucchino
?
However, this
offseason
is a different story. The Yankees are in their typical buy mode because of new found financial flexibility from expiring contracts and the new Yankee Stadium. In all likelihood, the Yankees will go after most of the big name free agents to compete at the top of the AL East with the
Sox
and Rays. At this point, the Yankees are an after thought to both of those teams, who are vastly superior to the Yankees. However,
alot
can change during the winter.
On the other hand, the Red
Sox
probably won't be major players on the free agent market because they do not have any glaring holes on their roster. If anything, the Red
Sox
will focus on signing
Kevin
Youkilis
,
Jonathan Papelbon
, and
Dustin
Pedroia
to extensions while trading whatever is left of
Julio
Lugo
. Even when the Yankees make their big moves, the Red
Sox
have such a good roster and farm system in place that they will not have to make a big move to match the Yankees.
So this
offseason
should shape up differently. With the Red
Sox
out of the picture, the Yankees could wind up bidding against themselves for free agents because no other team is likely to spend in their stratosphere. It should be interesting to see if the Red
Sox
get involved in certain free agents solely with the intention of raising the price/years. Then again, I don't think it would matter to the Yankees if they paid an extra $10 mil as long as they sign the guy they want.
So we probably won't see any crazy Yankee/Red
Sox
bidding wars this
offseason
, but hey, that doesn't mean this won't be interesting. This is still the Yankees and Red
Sox
. And these two clubs still hate each other.