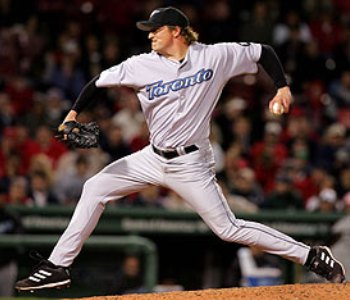 The Blue Jays released BJ Ryan yesterday even though he is under contract with the Blue Jays through 2010 for $10 million bucks. That's how bad Ryan has been this season. The Blue Jays did not believe that Ryan could be an effective closer anymore and felt that they would be better off clearing the roster spot and eating $10 million instead of letting Ryan continue to stink up the joint.
Ouch.
But luckily for Ryan, there should be a wide range of opportunities out there. There are many teams that are looking for relief help down the stretch and Ryan could be an attractive option given his track record and ability to get lefties out (.250 BAA in '09).
So let's take a look at which teams could have interest in Ryan:

Marlins: Their bullpen is a bit of a mess right now and Ryan could provide some relief if he's effective. When you consider that Ryan will probably only command the minimum, that will make him even more attractive to the Marlins.
Indians: The Indians bullpen has been ABSOLUTELY TERRIBLE this season and it might be worth their time to at least give Ryan a look this season.
Rockies: Alan Embree has been terrible this season and Ryan at least has the potential to be an upgrade as long as he can get lefties out.
Nationals: Their bullpen has been so bad this season that it can't get any worse with Ryan on board...right? Maybe they'll give him a look for 2010 and beyond.
Rangers: The Rangers bullpen has been better than expected, but the duo of Guardado and Holland have not gotten the job done against left handed hitters. Ryan could slot in nicely here.
Mets: The Mets have been missing a quality second lefty out of the pen all season and Ryan might be a good fit. However, the Mets have so many other holes that this could be far, far down on the list. Plus, the Pat Misch experiment has been okay so far...
Others: Orioles (the return)? Tigers (another quality arm out of the pen)?
Thoughts?