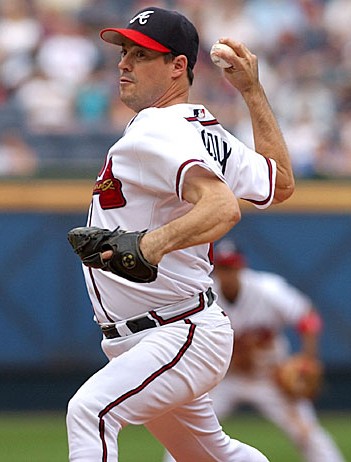 Greg
Maddux
will likely go down as the greatest pitcher of this generation.
Maddux
was an absolute master at his craft, compiling an amazing 355 wins and 18 gold gloves through guts, guile, smarts, athleticism, and control.
Maddux
never could throw very hard, but he did not have too.
Maddux
dominated hitters with his fantastic control and made countless hitters look absolutely foolish. Seriously, I have never seen a pitcher make so many hitters look bad.
Maddux
could do things to a baseball that most of us can only dream about doing. What an impressive sight to watch.
Think about this,
Maddux
dominated in an era where many ball parks got smaller, many players got bigger (juiced!), and the number of home runs increased dramatically. The idea that
Maddux
was this dominant without any kind of enhancement still boggles my mind. But he never needed steroids,
Maddux's
smarts coupled with his amazing athletic ability were enough to dominate many chemically enhanced freaks. His dominance was
special,
the kind of dominance that we will likely never see again.
With that said, I am happy to see
Maddux
retire. I respect and admire
Maddux
for his dominance and how he pitched, but
Maddux
was a Met killer.
Maddux
won 35 games against the
Mets
throughout his career and always seemed to always come up big when the Braves needed him. I cannot tell you the amount of times
Mets
hitters would flail at a
Maddux
offering or blankly stare as a backdoor slider slowly crept back over the outside corner. Too many times, the
Mets
had no chance against
Maddux
. And we all knew it.
Even though
Maddux
has not been with the Atlanta Braves since 2003, I always thought that
Maddux
would somehow continue to haunt the
Mets
. And how could I not, the guy had done it so many times before! But now that he has decided to hang up his spikes, I can rest easy knowing that
Maddux
will no longer be around to dominate the
Mets
.