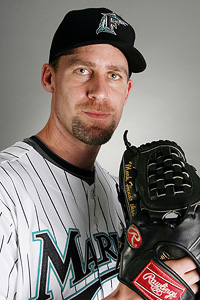 Before yesterday, the Orioles starting rotation looked something like this:
1. Jeremy Guthrie
2. ??????????
3. ?????????????
4. ????????
5. ???????????
So it's obvious that the Orioles needed to add some depth to their starting rotation, even if they have virtually no shot at competing this season. They needed starting pitchers to eat some innings in order to ease the burden off of their young starters (Liz, Olson, etc.) and conserve their bullpen.
However, is Mark Hendrickson really a viable solution? According to several
reports,
the Orioles are on the verge of signing Hendrickson to a one year contract that would fill one of the voids in the Orioles rotation.
My problem with the Hendrickson signing is simple: he has not been an effective starting pitcher since the first half of 2006. Since then, Hendrickson has been living in mediocrity land as his ERA as a starter has consistently hovered around 5 and peaked at 6.24 in 2008. Hendrickson does not strike out anyone (81 K in 2008) and gives up an absurd amount of base hits (148 hits in 133 innings).There is no getting around the fact that Hendrickson stinks.
Perhaps the scariest part about this signing is that Hendrickson will now be pitching a majority of the time against AL East teams, who have lineups comparable to fantasy baseball teams (especially the Yankees). A scrub like Hendrickson will be eaten alive in the AL East, much like Steve Trachsel was this year. It could get real ugly in Baltimore folks.
And finally, the Orioles needed a starter who would relive the burden off of the young starters and bullpen, but I fear that Hendrickson will be the exact opposite. There is no upside or benefit to this signing for the Orioles and I think that they would have been better off with a different veteran starter or simply letting the young guys compete for the rotation spot.
I understand that there is virtually no risk with a one year contract, but the odds of Hendrickson helping the Orioles out of the rotation is very slim.