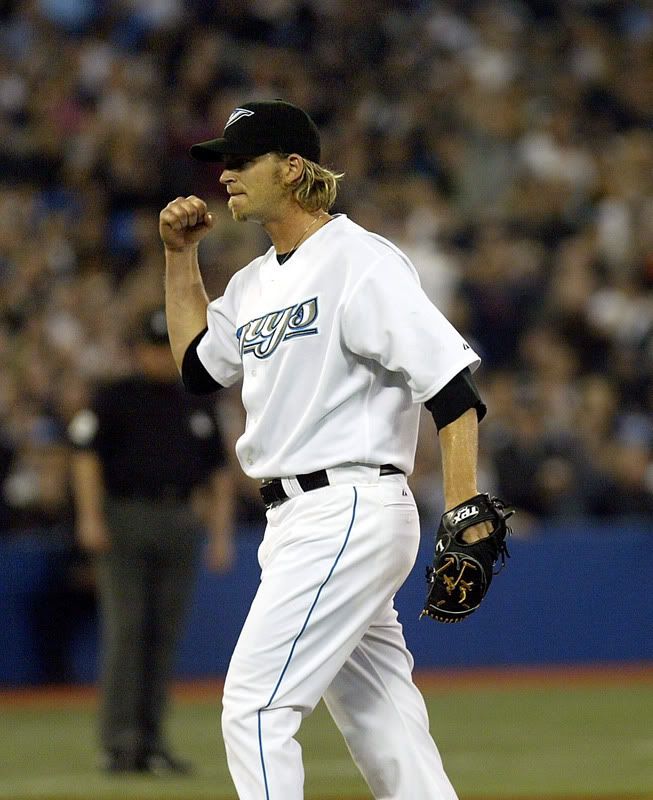 It must be a very confusing time to be a Yankee fan right now. Yankee fans gotta love the fact that they are spending so much money trying to make it back to the playoffs and win a 27th championship. Yankee fans should feel very good about signing CC Sabathia, even if his 7 year/ $161 million dollar contract is bigger than his body weight. Sabathia will be the true ace the Yankees were missing over the past few seasons, which is exactly what the Yankees needed.
But AJ Burnett? Five years/$82 million dollars? How ya' feelin' bout that, Yankee fans?
I'm guessing they are rather torn.
Burnett could be a front line starter for the Yankees because he has absolutely electric stuff. With his mid/high nineties fastball, quality curve ball and improved command; there is no reason why Burnett should not be one of the better starters in the AL. When Burnett is on, he is scary good. There is still a remarkable upside for Burnett, even at age 32.
However, the big question remains, can he stay healthy? Burnett has only pitched 200 innings three times in his ten year career and is seemingly
always
hurt. In his career, Burnett has been on the DL roughly 10 times (by my count) so he is no lock to give the Yankees 30 starts a year or even remain healthy throughout the length of the contract (or even a majority of it). Injury history is the unquestionable downside to Burnett.
So how about committing $82.5 million bucks to an injury prone pitcher like Burnett? To most teams, this would be crazy and out of the question. But for the Yankees, this is merely spare change. They can afford to take a chance that Burnett will continue/develop into the dominant pitcher that all the scouts and executives thought he'd become. The thought of Burnett dominating the Rays and Red Sox in the frigid cold of October baseball should be very tantalizing for the Yankees, especially with Burnett's amazing stuff.
Furthermore, if Burnett does get hurt, the Yankees can simply go out and sign someone else or replace Burnett with someone like Phil Hughes or Ian Kennedy (for this season). When you have unlimited resources, you can do things that most would not consider. The Yankees made themselves a better team by signing AJ Burnett, even if it was a ludicrous contract.
In his three seasons with Toronto, Burnett only had one season that was injury free (in 2008). Undoubtedly, 2008 was his best season with Toronto and probably one of the best in his career so far, but Burnett still had an ERA over 4. That doesn't sound like an ace to me.
But, the Yankees don't care. They are not only paying Burnett for his 2008 season, but they are paying him the huge bucks anticipating that Burnett will continue to develop and become another top flight starter for the Yankees.
Considering his upside, this contract makes a whole lot of sense for the Yankees, and the Yankees alone. We'll see if this deal burns the Yankees in the end, but for right now, Yankee fans should feel very good about picking up Burnett and his potential.