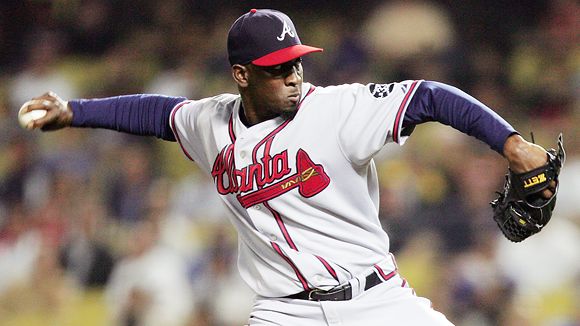 And to think, GM Andrew Friedman once said that the Rays were not looking for a closer.

Pshhh

.
Rays acquire:
Rafael
Soriano
Braves acquire:
Jesse Chavez
********* **********
Rays Perspective

Acquire a quality closer
Tremendous bullpen

Short term commitment
Did not give up anything spectacular to acquire

Soriano



$7 million is a lot for the Rays to pay a closer
Contenders in 2010?

Dioner

Navarro's days with the Rays numbered?

Conclusion:
$7 million is a lot for the Rays to spend on a closer, but this move signals to me that the Rays are indeed going for it in 2010.
Soriano
will become one of the Rays highest paid players (at least in the top 4) and there's no doubt that a lot will be expected of him. I'm surprised that the Rays were willing to take on all of
Soriano's
contract given their reluctance to acquire another closer, but given the situation, I guess the Rays felt that this was too good to pass up.
Look at the trade this way: the Rays traded
Akinori
Iwamura
and the $4.25 owed to him in 2010 for Jesse Chavez, who was then traded for Rafael
Soriano
, who will probably command at least $7 million from the Rays. So in a sense, the Rays picked up Rafael
Soriano
for
Akinori
Iwamura
and roughly $3 million. Not too shabby.
Braves Perspective

made the best of a tough situation
Chavez has potential to help the bullpen
Fortunate that they don't have to pick up any of

Soriano's

salary
Conclusion:
Once Rafael
Soriano
accepted the Braves' arbitration offer, GM Frank Wren was caught in a tough spot. The Braves could not afford to keep
Soriano
after signing Billy Wagner and
Takashi
Saito
, so they had no choice but to deal him. Even though the Braves did not receive the two draft picks they were hoping for when they offered
Soriano
salary arbitration, Wren did nicely for the Braves given the situation he was put in. Wren was able to maintain the Braves' payroll flexibility and at the same time, he acquired a hard throwing right
hander
in Chavez, who can become a mainstay in the Braves bullpen.
***What do you think of this trade? Tell us your thoughts in the comments section******