In the next few days, I expect to see many more articles like this
one
praising the work of Phillies GM Pat Gillick. The Phillies have had a tremendous season and the shrewd moves made by Gillick have been a complementary reason why the Phillies won the pennant for the first time since 1993. Gillick's genius is not simply that he was able to acquire big name players, but it's his ability to to recognize the hand he is dealt and work around that.
When Ed Wade was fired as Phillies GM at the end of 2005, he left the Phillies with a solid core that would lead to their eventual pennant. Just take a look at these names: Ryan Howard, Chase Utley, Jimmy Rollins, Pat Burrell, Cole Hamels, Brett Myers, Ryan Madson, Shane Victorino, and Carlos Ruiz were all acquired in some form by Wade. Once Gillick came aboard in November 2005, the nucleus for a great team was already in place, the hard part was finding spare parts to fill in the Phillies perceived weaknesses. Gillick has done a great job addressing those needs (pitching/right field/depth) through a series of moves:
1. Signing JC Romero
People forget just how bad the Phillies bullpen was at points during the 2007 season. Closer Tom Gordon was battling through injuries and poor performance and SP Brett Myers was forced into the bullpen to try and stabilize the backend. However, it was Gillick's acquisition of Romero that really saved the Phillies in 2007. Gillick signed Romero after he was cut by the Red Sox, surely hoping and praying that Romero would recapture his 2005 form. Luckily for Gillick, Romero has been spectacular for the Phillies in 2007 and 2008. Lefties have no shot against Romero and most importantly, Romero does not give up homeruns (only 5 this season). What a find.
2. Trading for Brad Lidge
This was the deal the propelled the Phillies to the NL Pennant this year. There is no doubt in my mind. Lidge was the main difference between the Phillies and the Mets and has been absolutely dominant so far in the postseason. Gillick acquired Lidge for some spare parts (Michael Bourn, Mike Costanzo, Geoff Geary) because of lingering questions about Lidge's ability to pitch under pressure. The post Albert Pujols 2005 NLCS moonshot Lidge had scared away many teams, but for some reason, Gillick was willing to take a chance on Lidge. And boy has that paid off. Lidge has yet to blow a save this season while dominating hitters to the tune of a 1.95 ERA this season. Lidge basically turned Phillies' games into 8 inning games...a la Mariano Rivera.
3. Trading for and signing Jaime Moyer
What an underrated move this has turned out to be. I remember laughing when the Phillies acquired Moyer in 2006 thinking "this guy is washed up." And yes, I laughed even harder when the Phillies gave Moyer a 2 year extension after the 2006 season think that, "there is no way this Grandpa will survive in that bandbox." Wow, was I wrong. Moyer's ability to locate his pitches has made up for his non-existent velocity and has made him one of the best pitchers in the NL this season. Moyer, at 45, had a 3.71 ERA this season pitching in one of the smallest ballparks in the NL. That's remarkable. Give the man his due.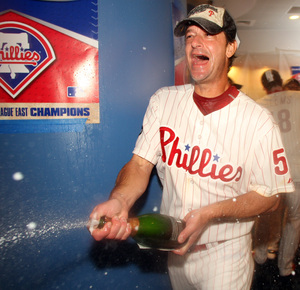 4. Signing Jayson Werth
Everybody knew that Jayson Werth was immensely talented, but no one believed that he could avoid getting injured. Werth never seemed to stay healthy, but Gillick took a flier on Werth hoping that he would benefit from the Phillies small ballpark and platooning against lefties. What a find Werth has been, often hitting in between the two left handed studs in the Phillies lineup-Ryan Howard and Chase Utley. Werth absolutely kills left handed pitching (.303 BA, 16 HR), which is exactly what the Phillies need. Furthermore, he has provided the consistent punch in the middle of the lineup that Pat Burrell has been able to maintain throughout 2008. Tremendous player, tremendous find.
5. Spares
The real genius of Gillick is evident here. Be honest, how many of you would have been able to identify the names
Greg Dobbs, Eric Bruntlett, Scott Eyre,
or
Matt Stairs
before the season began? Not too many of us. Each of these guys fills a role for Phillies and has made an impact at some point during the season. The Phillies are a deep, deep team that can compete with any AL team.
-More GMs need to look at the strategy of Pat Gillick: acquire guys at low points, and depth, depth, depth. Let's contrast the Mets and Phillies for a second. The Mets had five guys have fantastic seasons and struggled to find consistency amongst the remaining 20 players. But the Phillies were able to overcome injuries (Jimmy Rollins, Brad Lidge) and inconsistency (Kyle Kendrick, Pat Burrell, Ryan Howard, Chase Utley) because of the depth that Gillick accumulated. It is impossible to win a pennant with only a handful of primary contributors in baseball, the entire roster (1-25 needs to be strong) and that's where the Phillies have succeeded. Omar Minaya needs to do a better job identifying complementary players to go along with his phenomenal core. Take notes from Gillick, Omar.