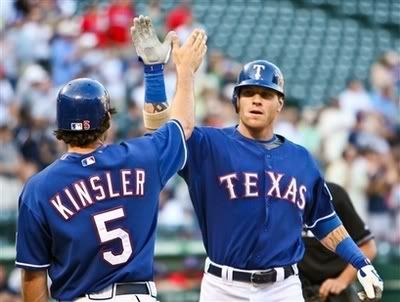 One of the most vivid memories of my childhood was watching the Rangers and Yankees play in the ALDS every season. The Rangers were a fun team to watch because of their ridiculous lineup anchored by Juan Gonzalez, Ivan Rodriguez, and Rafael Palmiero (enter steroids joke here). Not too mention that they had two guys: Rick Helling and Aaron Sele, who had huuuuuuuuuuuge breaking curveballs that seemed to to float up to the sky before furiously spinning back over the plate for a strike. How cool is that? Not just one guy, but
two.
That's like having two Barry Zitos!
I would always get really excited about the Rangers for some reason. I would convince myself that this was going to be the year that they beat the Yankees behind those big bats and maybe, just maybe, they wouldn't crumble under the bright lights of Yankee Stadium. But my prayers were never answered. The Rangers were abused by the Yankees year after year because the Yankees' pitching would dominate the Rangers bats. And as I'm sure your aware, the Rangers pitching was terrible. No pitching+shut down offense=LOSERS!
And you know what's funny? The Rangers still have no pitching. They remain entertaining because of the offensive studs: Ian Kinsler, Michael Young, and Josh Hamilton just to name a few. But they still cannot pitch. I'll put it to you this way, you know your in trouble when no one in your starting rotation has an ERA under 4.50. Yikes.
Free Agents
Terrible, terrible, terrible. Those are the only words I can use to describe the $93 million dollars the Rangers have invested in horrible starters; namely
Kevin Millwood
and
Vincente Padilla
. Sure both of these guys have had good careers, but the Rangers paid both of them significantly more than either was worth. Kevin Millwood has been up and down throughout his career, which makes the $60 million dollar contract given to him after a stellar 2005 season look foolish. Doesn't anyone look at the trends? Millwood has been unable to sustain dominance from year to year...what made the Rangers think that he could be an ace? And as for Padilla, when the Rangers traded for him in 2006, that was a good move simply because they gave up almost nothing for him. But to give him $33 million dollars over three years? Again, doesn't anyone look at the trends? Padilla's ERA has been on the rise since 2004 and he has been no better than a #4 starter. What did the Rangers see in him?
(On second thought, maybe the Rangers have to overpay pitcher because no one wants to pitch in Arlington? Hmmmm...that makes sense. If that's the case, then why did the Rangers trade away homegrown pitching talent? Ugggg, so many questions.)
Trades
People can claim all they want that GM Jon Daniels is one of the rising stars in the world of baseball executives, but his growing pains were disastrous for the Rangers. Back in 2005, Daniels traded three players for
SP Adam Eaton
, a flyball pitcher who had never produced an ERA under 4 in his career. For some reason, Daniels thought that Eaton would perform well in Arlington, where homers are hit at a crazy high pace. Did we mention that Eaton was a free agent at the end of the season as well? Everything about this deal reeked of stinker. And that's before you realize that Eaton missed half the season with a finger problem and only pitched 65 IP in his Rangers career. Oh yes, the three players acquired for Eaton:
OF Terrmel Sledge
,
SP Chris Young
, and
1B Adrian Gonzalez
. Ouch. Two all stars for 65 IP of crap. Nice work Jonny boy.
And then to top it all off, in 2006, Daniels traded for an alleged stud SP named Brandon McCarthy, who was one of the White Sox top prospects. McCarthy was armed with a beautiful changeup and phenomenal control was thought to have been ready to join the Rangers rotation in 2007. Daniels jumped at the chance to pick up a quality, young starting pitcher who could produce immediately. However, McCarthy's two years in Texas have been dreadful. He has dealt with more injuries than Cliff Floyd (circa 2006) and has yet to develop into a consistent starting pitcher. Oh yeah, can anyone remember the name of the guy who was traded for McCarthy. If you guessed
SP John Danks
you would be correct! Danks was the Rangers top prospect, but Daniels believed that Danks would not be ready for a few more seasons. That was a miscalculation: Danks had a superb 2008 campaign and is looking like one of the top lefties in the AL. Oooops.
And I know Rangers fans are clamoring for me to mention the trade that brought
Josh Hamilton
to Texas. Sure Hamilton has been great for the Rangers and looks like the second coming of God at the plate, but once again, the Rangers gave up a quality pitcher. This time around they gave up
Edinson Volquez
, who dominated the NL this season in a ballpark fit for a little league team. That's impressive. It's hard for me to harp on this trade considering how good Hamilton has been, but Volquez is just another example of a young starting pitcher who the Rangers have traded away. The problem is not only with developing pitchers, but there is a fundamental problem in the front office deciding who should stay and who should go.
Perhaps the best trade of the Daniels era was the
Mark Teixeira
trade. Daniels knew that the Rangers had a very small chance of signing Tex long term so he cut his losses when Teixeira's value was at its peak. In July 2007, Daniels moved Teixeira to the Atlanta Braves for
SS Elvis Andrus, C Jarrod Saltalamacchia, SP Matt Harrison,
and
SP Neftali Felix.
Andrus, 19, looks to be the real deal at SS while Saltalamacchia has tremendous potential behind the plate. If the Rangers can get anything out of Harrison and Felix, that will be a bonus. Elvis Andrus has the potential to be something special and the Rangers are lucky they got their hands on him.
The
Eric Gagne
trade was another heist by Daniels. Gagne, who was a free agent at the end of the 2007 season, was not going to re-sign with the Rangers at the end of the season. Daniels knew this, but he got lucky: the bullpen trade market was terrible and teams were willing to go above and beyond to add the missing piece to their bullpen. Ultimately, the Red Sox pulled the trigger on a deal for Gagne in which they sent
OF David Murphy, OF Engel Beltre,
and
Sp Kason Gabbard
to the Rangers. Little did the Red Sox know that Gagne would stink down the stretch for the Sox (GAG-ME) and that Murphy would shine as the Rangers regular left fielder in 2008. This dude plays hard and is a total gamer. Love his style. In addition, Beltre has developed into one of the Rangers' top prospects because of his raw talent and power. If he develops, this will be a major coup for the Rangers.
Draft
The Rangers recent drafts have been rather interesting for me to look at. They have drafted some quality players (
Thomas Diamond, Eric Hurley, John Mayberry, Taylor Teagarden
), but none of those guys have had any real impact in the majors for various reasons. Diamond has dealt with many injuries with Mayberry and Teagarden seem to have found themselves this season in the minors. It is time for these guys to start stepping up and produce with the big club. The hope for the future lies in the right arms of
Michael Main
and
Blake Beaven
who are your classic flame throwing Texans. Jon Daniels should say his lucky prayers every night that these guys stay healthy. Don't move them JD, please.
With the said, the Rangers have had recent success with
1B Chris Davis,
whose power looks like a combination of Kevin Mass/Mo Vaughn/Mark McGwire. Lemme say this, dude has phenomenal potential and could be the next 45-55 HR guy. He's that good. For some reason, in 2003,
2B Ian Kinsler
fell to the Rangers in the 17th round. Since then, all Kinsler has done is hit at every level and develop himself into one of the premier second baseman in the league. Very very good pick.
Prediction
*Until the Rangers develop some quality arms of their own, they will continue to struggle to compete. Pitching is the name of the game and it is impossible to compete when your team ERA is above 5.30. Developing pitchers will be the key to any future success.
Pitching, pitching, pitching.
(Final thought: Let's hope team president
Nolan Ryan
knows what he's
doing
. I think he's got the right idea changing the culture with the Ranger's pitchers. And I am all in favor of no pitch counts! Wooooo! Go get 'em Nolan!)