Since when does last place equal success? Usually the answer is never because who wants to come in last place...well, no one. But here's the thing about the Orioles, even though they will finish in last for the first time since 1991, there have been many bright spots for the Orioles this season. At the beginning of the season, the Orioles were expected to finish in last place while Orioles fans watched in disgrace as a team full of overpriced veterans, scrubs, and promising youngsters tried to piece the season together. You have to remember that Orioles teams of the past ten seasons have been constant disappointments as Owner Peter Angelos continued to dish out millions of dollars to aging veterans who continually disappointed fans. The franchise seemed lost and to me, 2008 has turned around the Orioles. And here's why:
1. Bedard and Tejada
When new GM Andy McPhail took a look at this struggling franchise last season, he identified these two players as his best assets for a trade. Bedard was considered to be one of the top left handed pitchers in the majors last season and McPhail knew that moving Bedard now could net the Orioles a few promising pieces to help the Orioles in the future. When the Orioles finally moved Bedard to the Seattle Mariners, they received four players back, three of whom have shown great promise.
The Orioles got back
OF Adam Jones
,
RP George Sherrill, and SP Chris Tillman
in return for Bedard, who has been injured for half of 2008. Jones, who was the Mariners top prospect, has looked fantastic for the Orioles this season and appears to be their CF of the future. Sherrill was the Orioles lone All Star this season by converting 31 saves before injuring himself in August. His rise has been a major plus for the Orioles, who control Sherrill's right for the next few seasons. Furthermore, Chris Tillman has been fantastic this season for AA Bowie and he looks to have "ace" stuff. Tillman has struck out 154 hitters in 135 innings, which could translate into big things in the majors.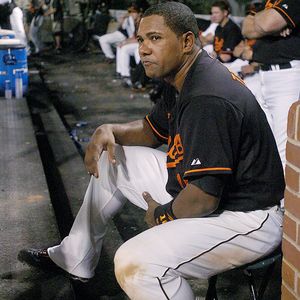 The
Tejada
trade could also prove to be a boon for the Orioles. Tejada, who was named in the Mitchell Report this offseason, had began to show signs of decline during the 2007 season. But that didn't stop the Astros from trading for Tejada in the hopes that he would recover his 2004 form. However, Tejada has underperformed this season to the tune of a .287 batting average with 13 HR and 63 RBI. Considering how much the Astros gave up for Tejada, this move was not worth it.
The Astros got five players back;
P Matt Albers, P Dennis Sarfate, P Troy Patton, 3B Mike Costanzo,
and the coup so far,
OF Luke Scott
. Albers and Patton have dealt with injuries for most of this season while Costanzo has remained in AAA for the season. But Scott and Sarfate have been impact players on the Orioles this season with Sarfate pitching great out of the bullpen (3.38 ERA in 64 IP) and Scott has put up some great numbers in LF (22 HR, 60 RBI). Scott, 30, could be the Orioles LF for the next few seasons or potential trade bait. This trade will be judged in the future primarily on how the pitchers perform-but I say that Orioles have already won this one.
2. 2008 Offseason (Huff, Roberts, Mora, Hernandez)
Perhaps the best part of the Orioles 2008 season is that Mora, Huff, and Roberts have played some great baseball. Just look at these stats:
Roberts: .297 BA, 9 HR, .377 OBP, 37 SB
Huff: .314 BA, 31 HR, 104 RBI, .369 OBP
Mora: .284 BA, 23 HR, 99 RBI, .344 OBP
Hernandez: .261 BA, 15 HR, 64 RBI, .313 OBP


Those are essentially career bests or at least career averages for each of those guys. What a gift for the rebuilding Orioles. Especially when you consider that after the 2007 season, all four of these guys had diminished their value to the point where the Orioles were basically stuck with each of them for this season. While it should be noted that the Cubs made a valiant effort to acquire Roberts before this season, McPhail recognized that Roberts' value was not at its peak and that Roberts had the potential to have a great 2008 season. It is important for us to note that each of these guys will be a free agent at the end of the 2009 season, which leaves the Orioles with two (or three) options:
1. Put them on the auction block and trade them to the highest bidder
2. Let them play out the 2009 season and perhaps try to move them in the middle of the season
3. Re-sign them!
If it was up to me, I would take advantage of the career years that each of these guys has put up and try to move all three. Huff and Mora have been inconsistent as Orioles and are aging while you can make the case that Roberts is one of the best 2nd baseman in the game. Ramon Hernandez's fate with the Orioles might already be sealed depending on the development of C Matt Wieters next spring. The kid is a stud.
McPhail has to recognize that rebuilding is his goal and that there will be no better time to move these guys than right now.
The Orioles could actually be competitive again in 2010 or 2011.