As a native New Yorker and American, today is a very tough day for me as it probably is for most of you. I vividly remember sitting in my seventh grade Spanish class and watching my teacher break down crying when she heard the news. Even though I was young, the images from 9/11 and that day will stay with me forever.
Another lasting image I will have of 9/11 is the Mets first game back at Shea Stadium. For all of those who do not know, the Mets were down 2-1 in the bottom of the eighth inning when Piazza came to bat against Steve Karsay with one on. Piazza then proceeded to crush a fastball over the left center field fence to give the Mets the lead. Piazza's homer could not have come at a better time. As I watched that ball going over the fence, I immediately started jumping up and down like I had so many times before and for a moment I felt good. How amazing is that? So every year on this day, I thank Mike Piazza for that momentous homer because for the first time in ten days, I felt like me again. Cheering for my Mets. Thanks Mike.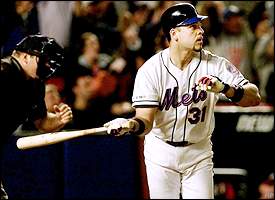 Anyway, I will be taking a step back from the blogoshere today to spend some time thinking about 9/11. I ask all of you, no matter what your faith, race, or creed, to say a prayer for those who are no longer with us, and to say thank you to the brave police, firefighters, and rescue workers. And finally, hug your family and the ones closest to you and thank God for every day we have on earth.
The blog will be back tomorrow.
In the meantime, here's some
U2
(circa 2001).
God Bless America.