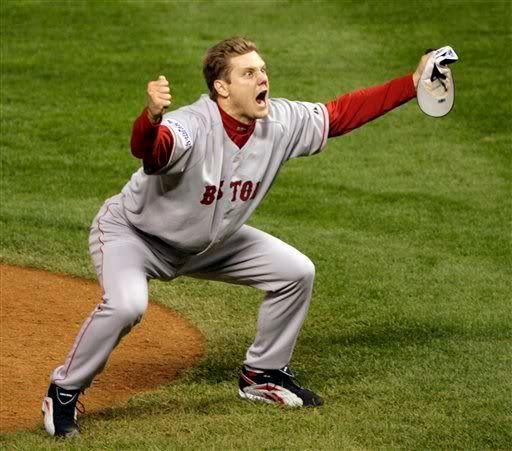 At points during this season, the Red Sox bullpen has struggled to find its groove, but as the season winds down, they have developed into a solid unit. The Red Sox won the championship in both 2004 and 2007 because of their great bullpens. As fans, you knew that if you saw either Foulke, Okajima, or Papelbon, the game was over. We'll see if the 2008 bullpen can repeat the success of those championship teams because they certainly have the talent to do so.
Papelbon:
He's one of the most dominant closers in the game today. Papelbon proved his dominance and ability last year during the playoffs and there is no doubt that he will repeat that in 2008. Oh yeah, Papelbon likes to
dance
,
alot
.
TRUSTED

Okajima:
For some reason, hitters have not been able to pick up Okajima in the two years he has been in the majors. Armed with a sneaky and deceptive delivery, Okajima has been equally tough on both righties and lefties (2.45 ERA vs. LH, 3.23 ERA vs. RH) which makes him enormously effective in the eighth inning. Okajima had a bad June, but has been fantastic again this season. If the Sox are to go anywhere this season, Okajima will be a big reason why.
TRUSTED

Masterson:
This guy could wind up making or breaking the Red Sox season. Who woulda thought that at the beginning of the season? Masterson, who is one of the Sox best pitching prospects, has been tremendous out of the bullpen for the last three months of the season. Masterson has dominated right handed hitters this season with a 1.76 ERA against them, which has made him a primary option in the bullpen. But Sox fans, do you trust Masterson against Vlad Guerrero in a big spot? For now, I say yes.
TRUSTED

Delcarmen:
To me, Manny Delcarmen is the right handed version of Hideki Okajima for the Red Sox. Delcarmen can get both righties and lefties out, but is not nearly as consistent or effective as Okajima (3.98 ERA vs. LH, 3.25 ERA vs. RH). Delcarmen throws hard and strikes out lots of hitters so the Sox will need Delcarmen at his best in October.
TRUSTED (for now)

Lopez:
Lemme start off with this: I love submarine pitchers. Especially lefties. For some reason, I think think they are used effectively, they are phenomenally useful. But for some reason, I have never really thought much of Lopez. I always saw him as the guy who could never make the clutch pitch or the one who could not get a tough lefty out in a big spot. Granted he has been great this season (lefties hitting only .192 against him), but I'm not sure he can get it done in a big spot. Prove it to me Javier.
NOT TRUSTED (for now)

Timlin:
Timlin has been a quality relief pitcher for the Red Sox for what seems like the last decade, but at this point he is clearly past his prime. Timlin has a 5.96 ERA this season and should not be put in during a big spot.
NOT TRUSTED

Aardsma:
Here's a guy who throws hard and will strike out lots of guys (a la Delcarmen), but has too high of an ERA to be a major factor in the playoffs (4.70 ERA). Aardsma's main problem has been the walks (32) even though his strikeouts are tremendous. I don't think this guy will help the Sox out much this postseason.
NOT TRUSTED
As of right now, how many teams can say that they have 4 or 5 guys that they can trust out of the pen? Not too many. This bullpen could actually wind up becoming a strength for the Sox this post season and Sox fans should feel great about Papelbon and Okajima. Those two guys can turn a game into a 7 inning game because of their dominance. We'll see how they perform.